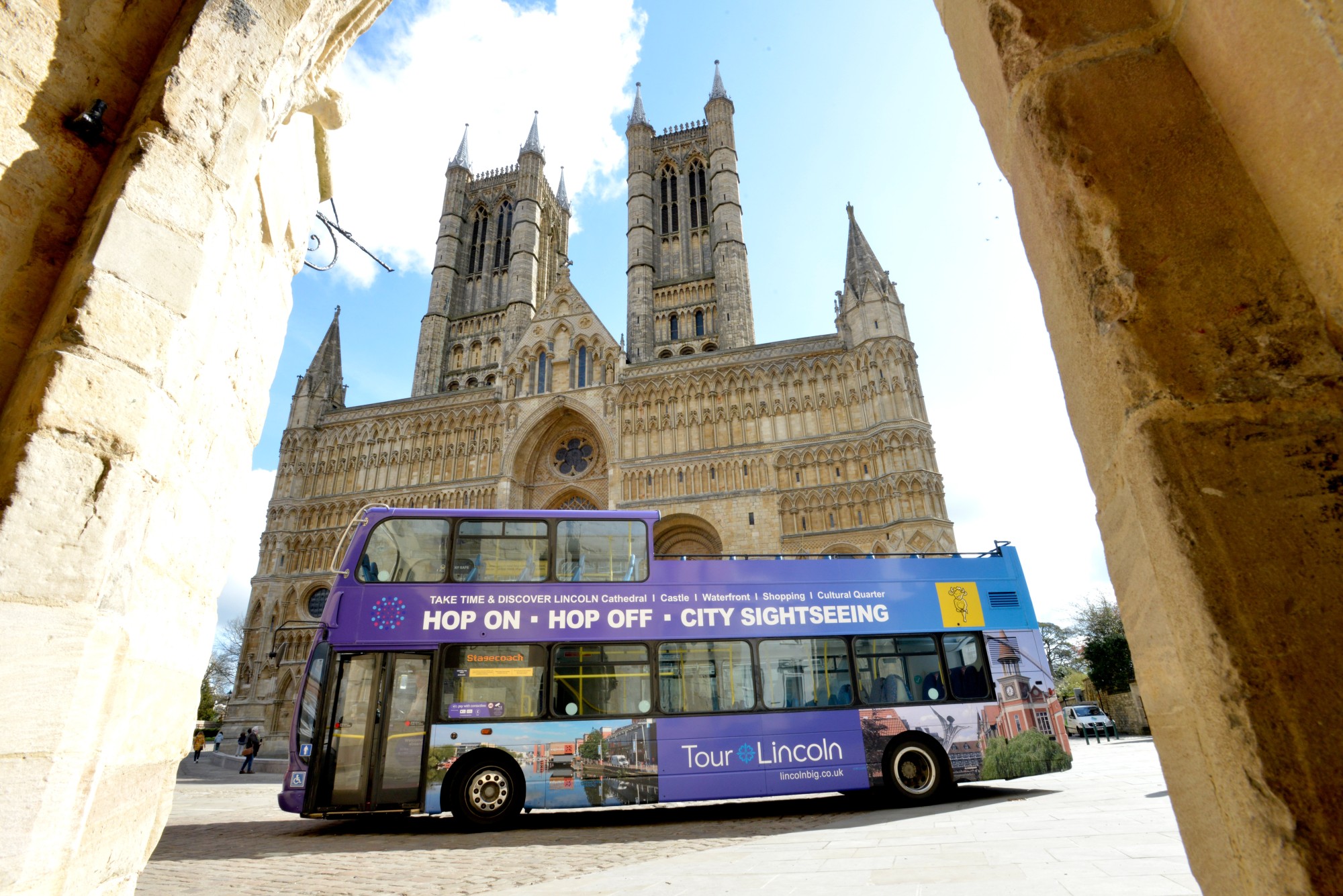 Open Top Sightseeing Tour of Lincoln
Tour Lincoln - open top sightseeing tour of the city with live commentary
DISCOVER LINCOLN'S 2000 YEAR HISTORY WITH LIVE COMMENTARY IN UNDER 1 HOUR
Plan a family holiday day out and discover the historic city of Lincoln. This is a brilliant opportunity for visitors and locals alike to explore the city's best attractions with knowledgeable and entertaining tour guides.
Lincoln's Sightseeing Tour Bus allows tourists to experience some of the best photo opportunities of iconic landmarks from the top deck of the tour bus and receive an interesting (and often humorous!) guided tour of the city's heritage.
Everyone has the freedom to travel anywhere in the city centre with the hop-on, hop-off service, meaning you can join the bus as many times as you like to see all the sites and discover what Lincoln has to offer - a great way to spend time with friends, partners, and family.
Lincoln has a wide range of attractions and landmarks to explore and with the Open Top Sightseeing Tour Bus, the city is yours to discover! Experience Lincoln's rich history through sights and stories, from Lincoln's Magna Carta, the stunning Cathedral and Castle, to Roman Lincoln, Aviation Heritage and much more.
Start planning your trip to Lincoln today and see for yourself why visitors keep coming back for more!
Highlights include:
Hear interesting facts about the city and the best attractions with our experienced and entertaining tour guides.
9 hop-on, hop-off stops so you can really get to know the city at your own pace.
The tour provides a unique flavour of the city's rich heritage with something for everyone: from the origins of the Magna Carta and the stunning Cathedral / Castle to Roman Lincoln, Aviation Heritage and the life and times of the county's most famous faces, including George Boole and poet laureate Alfred Lord Tennyson.
Experience some of the best photo opportunities of iconic landmarks from the top deck.

Tour Bus Dates and Times 2023
Tours start from 25th March to 29th October 2023.
March, April, May, June & October: Weekends and Bank Holidays only
July, August & September: 7 days a week
Exclusions: 16th April (10k Race), 13th & 14th May (Cycle Grand Prix), and 25th - 28th August (Steampunk).
Tours depart hourly from 10.30am to 3.30pm from the West Front of Lincoln Cathedral. Visitors can board the bus at any of the 9 stops including:
Lincoln Castle
Lincoln Cathedral
Northgate
Newport Arch
Museum of Lincolnshire Life
Brayford Waterfront
Transport Hub
Cultural Quarter
Brayford Waterfront
You can hop on and hop off the bus at any of the stops as many times as you wish! The full tour takes just under an hour.
Tour Bus Fares:
Adults: £9
Concessions: £7
Young People: (16 - 19 years): £7
Children* (from 3 years): £3.50
Children* (up to 3 years): FREE
*Children must be accompanied by an adult.
Buying Your Tickets
2 simple ways:
From the Stagecoach East Midlands app (available on the app store and Google Play)
From the driver on the bus (cash or contactless payments)
Space on the bus is first come, first served and subject to availability. Please read the Terms & Conditions for ticket purchase here.
Times and stops may be subject to change. The Brayford Waterfront (stop 8) will not be in use on the following dates due to events taking place: 9th & 16th April, 17th June and 24th September 2023. On these dates please use any of the alternative tour bus stops.
Download a copy of the bus timetable and route here
For the latest news and updates, visit the official Tour Bus Facebook page!
Event or Special occasion – why not hire the bus for a private tour?
The tour bus can be hired privately, outside of the normal tour times, and tours can be customised to its start, finish and duration. The bus has been enjoyed by businesses, organisations, wedding guests, schools and even prom nights! Also enjoy Lincoln's Ghost Bus Tour which is available for private hire. Please email info@lincolnbig.co.uk for a quotation.