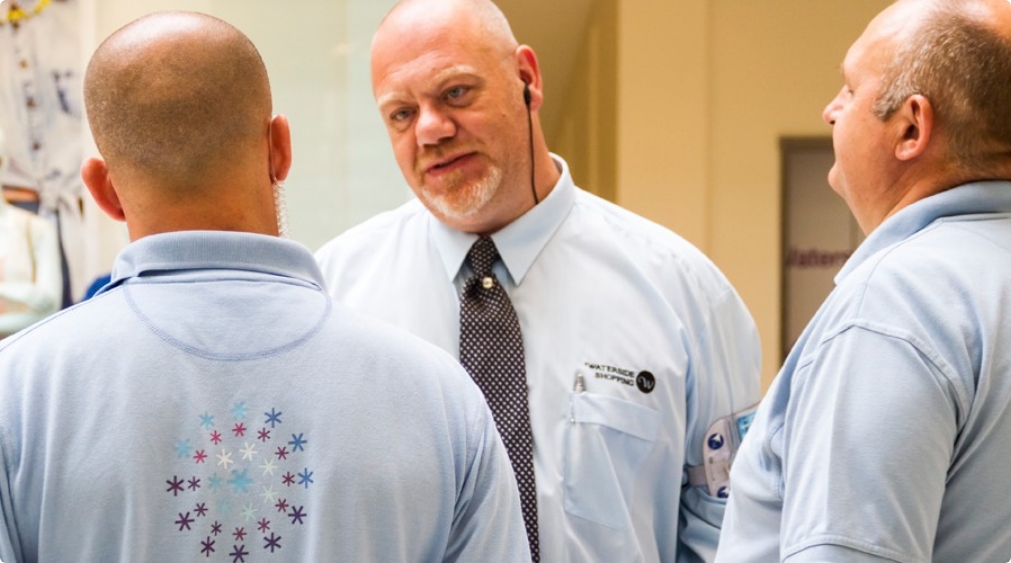 Safety & Security
Lincoln BIG works with businesses around the city centre to ensure a safe and secure experience when trading, shopping or visiting.
Security Group
The Security Group provides the following services free of charge to members within the BID area:
A Secure and BCRP (Business Crime Reduction Partnerships) Accredited Security Group
Bimonthly Intelligence Meetings.
Voluntary Membership to the Banning Notice and Exclusion Scheme.
Security Group Intelligence Website and App Access (DISC).
Regional Intelligence from NABCP (National Association of Business Crime Partnerships)
Loss Prevention and Radio Training.
Defibrillator training.
Range of Useful Security Group Merchandise.
Seasonal Security Group Initiatives.
#ShopKind Materials to Combat Violence and Abuse in Retail.
Bank of England Materials to Combat Bank Note Fraud.
Encrypted Security Radios are also available for an additional £200 per annum per radio, this includes a charger, earpiece and software upgrades.
Further accessories are available for purchase through Lincoln BIG.
All the Security Group benefits are available outside the BID area at a cost:
The radios are £300 per annum per radio and this price includes all the other Security Group services.
All Security Group services are available without a radio to voluntary members for a minimum £150 per annum depending on the number of employees.
To contact us for more information, please contact Yvette Mills.
The Security Group also runs an Exclusion Scheme which excludes a prolific offender from every member store displaying the Security Group door sticker.
The criteria includes:
Where an offender receives three or more Banning Notices either from the same business or from different businesses and the same offender has five or more incidents on file for the last six months.
Where an offender commits a serious offence against store/security staff such as violent, racist or sexual based offences.
The length of the Exclusion Order varies dependant on the severity of the offence but the minimum length is 6 months.
No Juveniles will be excluded.
The excluded individual is published on a gallery on the DISC system so all stores can identify them.
As a result of General Data Protection Regulation (GDPR), Lincoln BIG Security Group intelligence will only be available on the Littoralis (DISC) Website and App this includes the activities of local offenders, security alerts and galleries of offenders. Hard copies will not be provided. DISC is crucial to ensure you and your company are kept up to date with all security information and alerts.
Access and use of the DISC is free to all Lincoln BIG Security Group members provided you meet all the criteria. Each member can have a maximum of two members of staff registered on the website.
If you would like to start using the Website/App please contact Yvette Mills or click here.
Download the Members Privacy Notice here.
Download the Subject Privacy Notice here.
Safe City
In association with EMAS, Lincoln BIG are responsible for 7 defibrillators across the city. The defibrillators are very easy to use and have already been instrumental in saving lives. Defibrillators are located at the following locations within the City:
The Terrace Reception, Grantham Street LN2 1BD
Cube and Triangle, 40 Silver Street, Lincoln LN2 1EH
Doubletree by Hilton, Brayford Wharf North, Lincoln LN1 1YW
St Marks Management Office, St Marks Shopping Centre
Home Nightclub, 4 Park Street, Lincoln LN1 1UF
Waterside Shopping Centre (Between O2 and Goldsmiths), High Street, Lincoln LN2 1AP
The Visitor Information Centre, Castle Hill LN1 3AA
There is also access to free defibrillator training.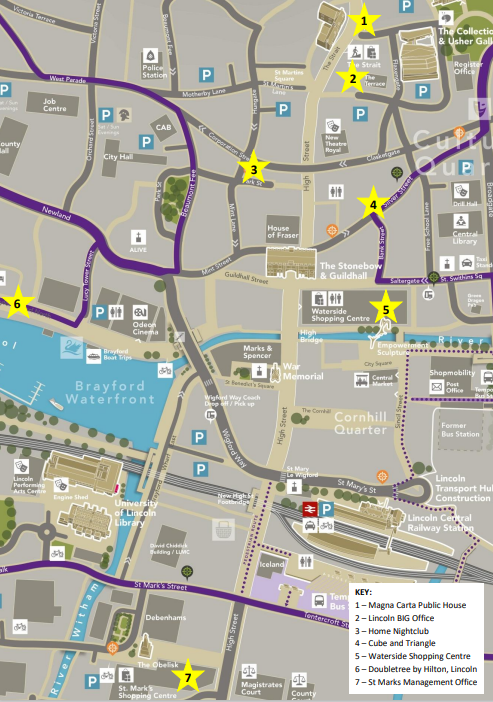 It is hoped that these services will help businesses to work in partnership with each other and other agencies to combat crime within their stores. The services are also available outside the BID area, charges apply and are based on the businesses rateable value.