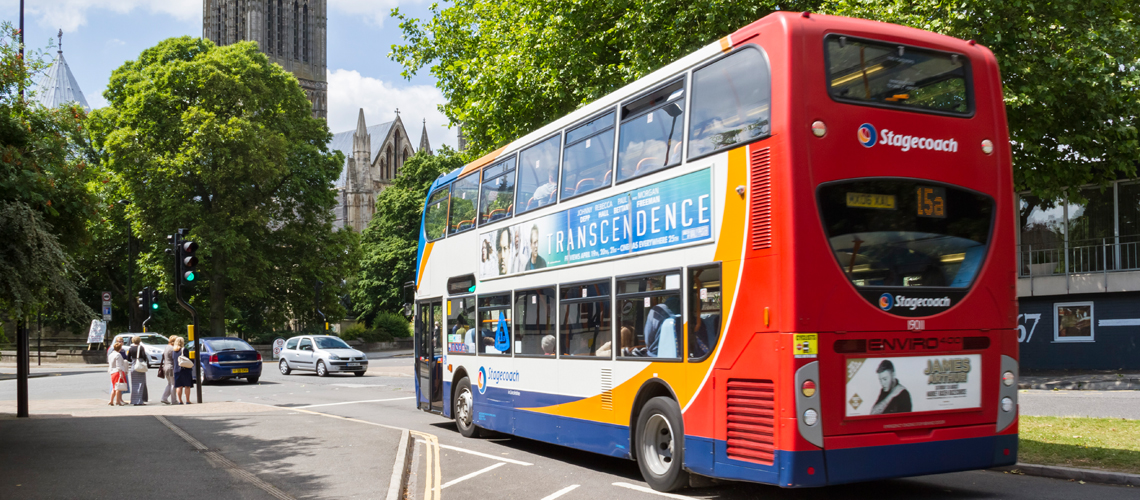 Lincoln BIG Bus Deals
The Lincoln BIG Bus Deals help to cut the costs for employees in the Lincoln Business Improvement District to travel to work.
The BIG Bus Deal is a scheme developed by Stagecoach East Midlands with the Lincoln Business Improvement Group, to encourage people to travel to and from work by bus. The BIG Bus Deal helps cut the costs and stress involved in travelling to and form work. If your employer is within the Lincoln Business Improvement District, you can join the scheme.
Do I need the Inner or Outer Bus Pass?
The Lincoln BIG Bus Deal passes work in the same way as Stagecoach's Megarider and Megarider Plus work: any journeys past the Megarider Boundary require an Outer Pass.
Please see the Stagecoach Bus Map for details.
How do I join?
If your business is within the Business Improvement District, you can join the scheme by selecting a pass above and submitting the online form. Once your employment has been verified and your submission has been approved, Lincoln BIG will be in touch to complete the process. Passes are issued for the first day of the calendar month.
What happens when I join the plan?
After your application has been processed, you will be issued with your ID card and BIG Bus Deal card, both of which will be required to travel. The fee for the pass will be taken in monthly standing order payments until further notice. Although you are not tied in to the scheme, we would like you to consider the BIG Bus Deal as a long term option. You must give one month's advance written notice to cancel your card and return it to us. Failure to do so will leave you liable for the remaining cost of your card.
How do I use my card?
Every time you travel on a Stagecoach bus you simply show the driver your photo-ID card along with your BIG Bus Deal card. It's that simple – no money, no paper tickets, no hassle with change.
How convenient is the current network of buses?
Stagecoach operates a network of bus services covering the whole of the City of Lincoln, North Hykeham, Waddington, Branston, Washingborough, Heighington, Nettleham and Skellingthorpe. Most services run every 15 or 20 minutes. Outer villages and towns are also served regularly. You can download your timetable on the Stagecoach website.
Will the price go up?
Stagecoach will endeavour to keep the cost of travel as low as possible. Naturally, the more people that join the BIG Bus Deal plan, the easier this will be. All commuter plans are reviewed on an annual basis and any increases will be notified to Lincoln BIG Bus Deal cardholders at least a month in advance.