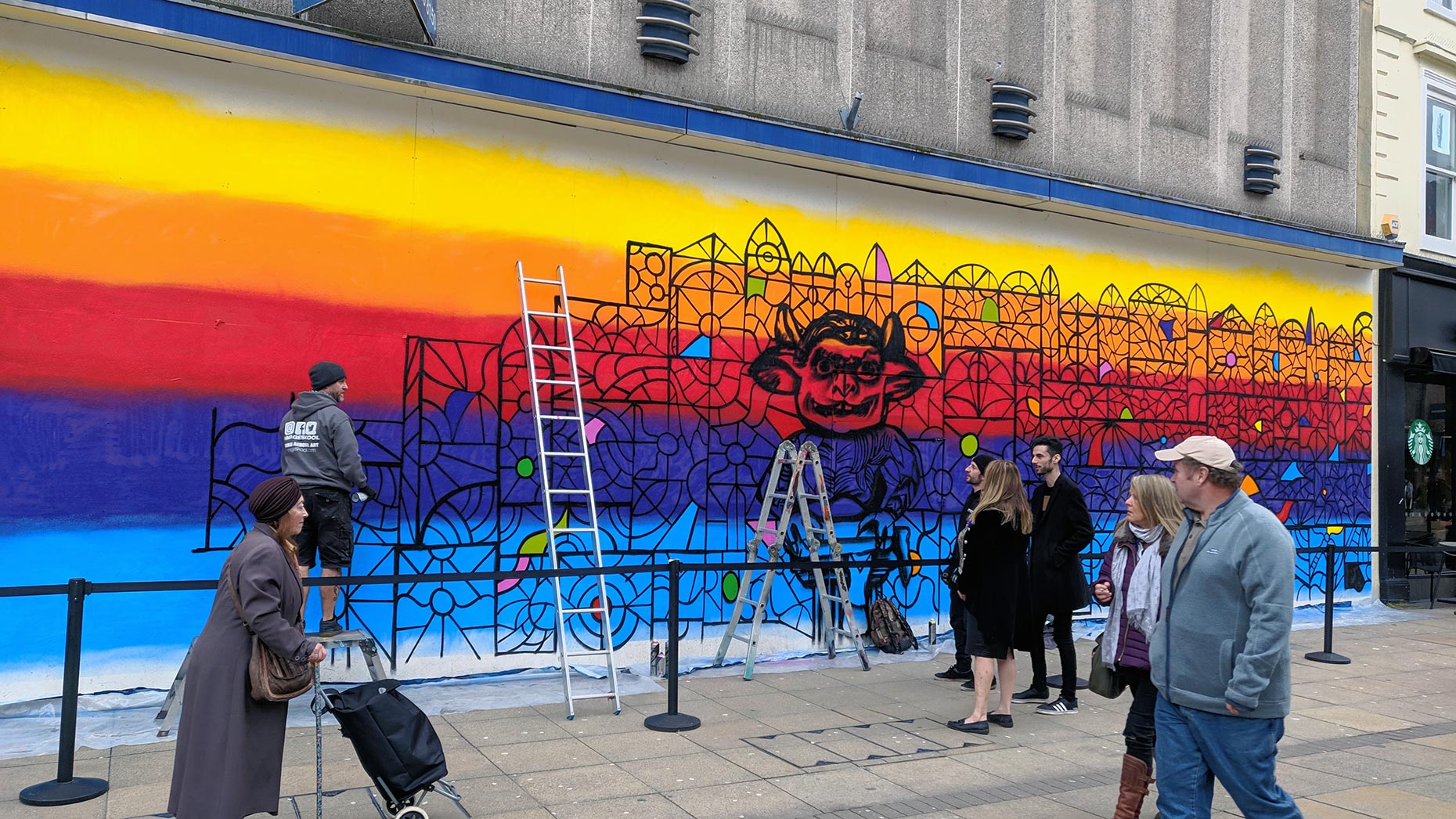 Lincoln Creates
Lincoln Creates 2022 is a fund which is designed to support new creative art projects in Lincoln city centre.
About Lincoln Creates 2022
Lincoln Creates 2022 has been made possible with some of the money raised from the public auction of the Lincoln Imps in 2021. Lincoln Creates is managed by Lincoln BIG and supported by partners, including local arts organisations.
The fund aims to encourage artists and businesses to work together on visual art projects which will make Lincoln City Centre a more vibrant place to live, work or visit. Art projects can take the form of murals, sculptures, installations created using different materials and processes. Art projects can receive funding of up to 100% with grants available of between £500-£5,000 towards their project. However, priority will be given to concepts put forward by artists and businesses working together.
Lincoln Creates 2022 Project Objectives:
Develop and encourage collaboration between Lincoln based creative practitioners and businesses
Support the City Centre events programme
Enhance local image and identity through arts and culture
Provide innovative an inspiring creative content and process
Businesses and artists were invited to submit applications for Lincoln Creates 2022 earlier this year, applications have now closed.
Upcoming projects for 2022…
The Lincoln Creates panel met in June 2022 to consider presentations from eight artists shortlisted from eighteen applications for funding. The following four projects have been chosen to take place across the city centre during 2022.
Writing Wild: with artist Ruth Charnock located at Lincoln's Liquorice Park and Happy Culture Café
A series of free, in-person, creative writing and embodiment workshops during September. Over a series of sessions people will explore how nature might inspire and support their creativity, self-discovery, and, specifically, their writing. If you're interested in these workshops and would like to book a place, email Ruth Charnock on: rne.charnock@gmail.com
Piecing Us Together Trail: across the City Centre with artist Mel Langton
A fun family friendly jigsaw trail across Lincoln City Centre during October half term. The trail consists of 40-puzzle pieces displayed in businesses windows for people to 'piece together'. Mel Langton worked with these businesses to tailor their puzzle piece design and character.
Wigford Way Bridge 2.0: with artist James Mayle and Luke St Clair-Pedroza located at Brayford Waterfront
James Mayle, along with fellow artist, Luke St Clair-Pedroza, from Graffiti art specialists, Imageskool will be painting a 20-metre mural underneath Wigford Way Bridge from the 22nd – 26th August. The design of the mural will include themes of heritage, industrial revolution, and canal workers.
Rethread Denim, Giant Jeans Installation: with artist Kerry Gibson
A 280% scale, 9ft tall, jean installation using discarded denim from local charity shops. This project will support Lincoln Fashion Week activities to inform the people of Lincoln about the impact of the fashion industry.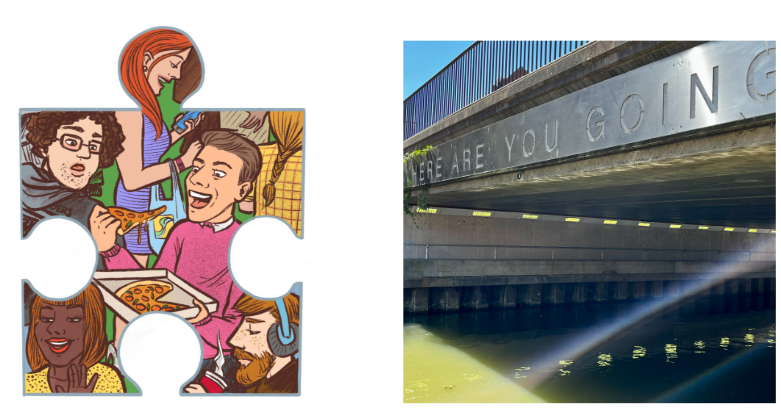 Previous successful projects
The following five projects were chosen to take place across the city centre during 2019:
Share Pavilion: Stokes Coffee with the artist Nadya Monfrinoli - located at The Lawn
Window cut outs: Venues and businesses across the City Centre with the artist Lena Sass
Poetry in the City: Venues and businesses across the City Centre with Women in the Arts
Brayford Underpass: Brayford Waterfront with the artist James Mayle
Origami window and store displays – with Bluebird Arts and Paperchase working with Zen Pulp